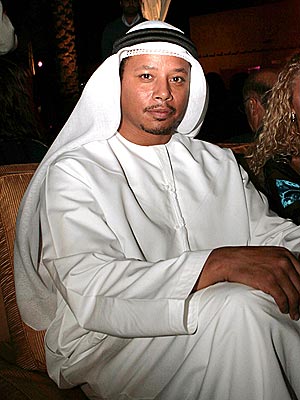 Received these 2 emails about my beloved. The first one is from cdnyc07 aka nic:
First let me say, I really enjoy your site. It's one of the few blogs on the internet that doesn't focus solely on celebrity gossip, but you give us other more important things to discuss and think about. Keep up the good work!!! Now on to the foolishness:
I stumbled across this quote from your beloved Terrence Howard from last night's premiere of 'Iron Man' in L.A. And I thought...who would enjoy this more than The Invisible Woman.

Terrence Howard on gay rumors in Hollyweird:

I remember when I first heard online that Will Smith was gay, I was like, "Oh…that's possible, I guess." But then when I read online that I was gay, I was like, "Oh, who the hell came up with that?" The eccentricity of being an individual is always gonna make you separate from the rest of everybody else, and you have to be okay with that. But I set out to see the world through my own eyes, experience it and taste the world for myself, instead of having someone else tell me this is what the world tastes like.I want to know, I need to know just for my own sake of being me at the end of the day. I'm kind of glad I'm eccentric if that is what I am. I just think I'm human. I think I'm an individual human like anybody else.
Let us pray!!!
Nic
The second one is from Sergio:

I was talking to a friend of mine the other about black actors and we realized what is it that these black British actors like Chiiwetel Ejiofor, Eamonn Walker and Idris Elba have that brothers here don't? Oh yeah and don't forget Delroy Lindo. Did you know he's British too born in London? We're talking some real masculinity here. Instead here we're got Terrence Howard and Tyler Perry.

Case closed.

Sergio
From IW: Let me say this: if you go walking around in bare feet while wearing a 3-piece suit (as one blogger told me he saw him do), or you go around showing people your "rainbow colored" notebooks of you "writing backwards, to show how you think different about things" (which this blogger also told me he said), or you say your very successful acting career is a "curse" cause you really wanted to sing (which he said, "bitterly" the reporter wrote), you might be toeing the line from "eccentric" to "downright weird". Call me crazy.
Also, if you say men should start showing and stating their love to one another and not be afraid, and you go around encouraging men in a film to go commando while personally sporting your one inch ding ding for the world to see, and you say you feel "unclean" after having sex, and you constantly wear a murse *man-purse* at all times, you might be venturing from "eccentric" to "hella zesty". Not that there's anything wrong with that, haha.
In other words, agreed Nic and Sergio.
By the way guys; I am dedicating my blog tomorrow to the year 1988. I am doing a radio show with Michael Gonzales and some others about the year, and we are all writing about it as well. Full details tomorrow...