Can we talk about TV One for a second?
I notice that lots of people talk about the failings and shortcomings of BET, but rarely is a word given over to TV One. Let's not take them for granted, starting with the Black woman owner Cathy Hughes (who genuinely cares about the community)....they are always doing very positive things over there. They are real and comforting, like going over to one of your favorite relatives' homes.
One of my favorite components are the films that they show. This weekend they showed a good variety; "Doing Hard Time", "New Jack City", "Malcolm X", and "The Ernest Green Story". This channel is fabulous for seeing films you might have missed the first time, or haven't seen in a while and want to view again.
Since I am a major film lover, I fall into the second catagory and am usually rewatching. I usually don't do that very much, but for some reason I enjoy it when I re-view on TV One. I notice things I might not have seen the first time or even the second time I watched a film.
Doing Hard Time

Doing Hard Time is the very first time I saw Michael K. Williams, who plays the infamous Omar on "The Wire". I wasn't expecting much from the movie, as I only picked it up since I'd pretty much seen everything else, and wasn't that thrilled about top billed Boris Kudjoe (not a fan). It is the story of 2 men (Kudjoe and Williams) who are at odds against one another in prison.
To my surprise I got completely absorbed into the film, every bit of the reason being Mr. Williams. On first glance I was dismissive, like "who is this crispy negro?" but I found myself getting wrapped up in his drama and emotions, just like his performances on The Wire. Check this movie out to check him out, but it is a bit violent, it's a prison setting after all.
What can I say that hasn't been said already? But a lot of time has passed since this movie first came out, so you look at some things in a different way. Some things I noticed:
-Flava Flav was all up in that piece, like they were proud to have him. Who knew what he would come to in the new millenium?
-The landscape architect haircuts look hilarious now. Mario Van Peebles flatop was a travesty.
-How did Allen Payne and Wesley Snipes lose so very much hotness?
-It didn't occur to me that when Lil' Wayne talks about "The Carter" he was referring to the drugged out apartment building in this movie. Prolly cause I don't pay attention to Lil' Wayne.
-I think Dave Chapelle got those white lips for his sketch crack character from Pookie.
-Remember when Teddy Riley was the sh*t and not broke? How did that negro lose all that money anyway?
-I think this was the last serious film for Judd Nelson, poor baby.
-I'm still wondering what happened to Tracy Camilla Johns.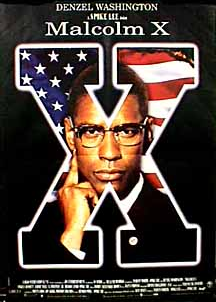 Malcolm X
I wrote about this film when I first started this blog
here
. I must say, after watching it again, I really got caught up in the last third of the movie, which starts right about when Malcolm goes to Mecca and changes his views about other cultures.
Malcolm X is one of my most important icons, and the enlightenment he felt after his experience was so huge, and so eloquently related by him that you could feel it in the fiber of your bones. I think the film captured that essence very well, and you are devestated when he is shot, and all knowledge that this is really Denzel Washington becomes secondary.
This is the film that should have garnered him an Oscar.
Very appropriate for Black History month....we should always be reminded that at one point in time our very lives were in danger just for trying to go to a decent school. It is the story of The Little Rock Nine, whose cause was a bit more noble than the Jena Six.
It assembles an eclectic cast with Morris Chestnut playing the lead, co-starring with Ruby Dee, Avery Brooks, Tico Wells, CCH Ponder, Ossie Davis, and Monica Calhoun.
To learn more about Ernest Green and The Little Rock Nine click
HERE
.