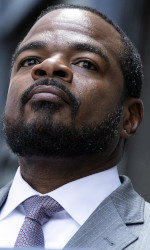 I was watching "On The Lot" on Fox the other day (or rather, someone else was watching and I glanced at it) and
F. Gary Gray
was on it. My first thought was "I know he has something better to do", but I know a lot of people like to be seen on television, they can't help it. He's also like Alfred Hitchcock, giving himself a cameo in all of his films. I'm not mad.
Anyway, F. Gary directed my favorite film "Friday". And that's saying a lot, as it was his directorial debut after making a gang of very high profile and well made music videos. He went on to make (in order) "Set It Off", "The Negotiator", "A Man Apart" (everybody makes mistakes), "The Italian Job" and "Be Cool". It was just announced that he will be directing "The Brazilian Job" a sequel to "The Italian Job".
I like the fact that he doesn't spread himself too thin, and uses high profile actors that can actually act. He always makes films where blacks are a focal point or character, and his look is clean, crisp, and high quality. I look forward to every movie he makes...I'm sure he'll be around for awhile, though in my opinion, he doesn't receive enough recognition. Kudos, Gary!