The rain has finally broken here in the Bay, but it is still grey and bleak. I've been holed up like a winter bear in hibernation, as I completely detest rain. Honestly, I would rather be in snow. It was so bad that earlier in the week I had tickets to see Raphael Saadiq at the Fillmore, and didn't even go, and I
always
see Raphael. Is it possible to look cute in the pouring rain? I think not, unless you have an entourage like Kimora Lee Simmons.
Besides the weather, one thing I miss about LA. is the diversity, and the randomness of the celebrities I would spot. A favorite game I would play while waiting in the horrid Sunset Strip traffic from work was "spot that random celebrity". It would veer off in all different directions; Jessica Biel, Alfonso Robeiro, Ryan Reynolds, Vanessa Bell Calloway, the dude from Korn (don't ask me how I knew that), The Empress Of Lucite (my fellow D-Listed readers know that one). While watching the movie "Cover" over the weekend, it made me almost feel like I was playing that game. More on the later. And yes, I am still a bit grouchy, and the following Black Cinema films did nothing to help.
Starting off my MMM were several just as random YT films--"Final Analysis", a thriller that was made when Richard Gere was still semi-hot*, "The Prime Gig" a sleep inducing movie about a big ticket telemarketing scam starring Vince Vaughn, when he was still semi-hot*, and a film that I highly recommend called "
Dogtown and Z-Boys
", which is a semi-documentary with great footage about the very beginning of the skateboard movement in Santa Monica, CA. Don't confuse it with the weak, fictionalized, commercial version "The Lords Of Dogtown". "Z-Town" made a very pedestrian subject extremely engrossing, and I wear my Vans a little prouder now (for those who don't know, Vans are a sneaker that first became popular by being favored by the surfer and skateboarding cultures in L.A.).
But I seriously digress...on to Black Cinema, yes?
The first one I saw was a perfectly awful movie called "The Last Stand". You watch the strangest things when you can't get back to sleep...is there anyone more unlikeable than Guy Torry? Oh yes, Kevin Hart, who also happened to be in the film. Just grand.
The "movie" premise was about 4 Black comedians trying to rise to fame, overcoming the various challenges in their personal lives. The challenges are wholly contrived, as if they were ripped from the pages of "How To Write Your First Screenplay 101". The guy just out of jail struggling with credibility in the civilian world, the woman abused by her mom's boyfriend, the dude with the unsupportive wife who tells him he's living a pipe dream...ho-hum. Kevin Hart and a very loud Anthony Anderson are secondary characters. Also involved is the strange calamity that is Red Grant (who I wrote about
HERE
), always a sure sign that you are involved in a z-grade movie.
Then there is Guy Torry as the unfunny comic (the only part of the film that rang true), who runs away from his family life to prove to Daddy he can make it. Oh, and he has a drinking and drug problem that causes him to self-destruct. Why does Guy Torry get more work than Joe Torry? Guy plays the exact same character, the exact same way, in everything I see him in. Never engaging, never funny, always laughing at his own jokes, and never easy on the eyes. And Russ Parr (who "wrote" and directed)? I think dude might seriously want to stick to radio.
So--Kevin Hart, Guy Torry, generic plot, and some arbitrary secondary story about how one of the comedians jumped to their death. The film begins with that, and the body is covered with a sheet. It keeps flashing back to the crime scene throughout the film, and we are supposed to guess who it is. The only problem? The first story is so weak you don't give a flying fig.
Not even worth buying at the barber shop from Hustle Man. Here is the trailer, which makes it look much better than it actually is, believe it or not:
The next is "
Cover
". Hmmm. I passed on this film at a Black film festival when I had to choose between it and "Three Could Play That Game". Can you believe I chose the latter? Even more so, can you believe I attended a festival that would show it as a selection?
I really wanted to like this film, as I have always been a big fan of Bill Duke, the director. But he is definitely starting to get the telephoto side-eye from me. Between this and "Not Easily Broken" I think he might be paying for his children's Ivy League education or something. Surely a man of his caliber can create his own projects? Or are these films something he actually wanted to do?
This isn't a spoiler, as all of the film descriptions and publicity tell ahead of time what the film is about. It is about a couple who moves from Atlanta to Philly, the husband being some sort of successful doctor. Many of his long time friends are there, all of them extremely shady and suspicious. The husband is hiding a secret, which we all know 10 miles before the clueless wife--he is on the "down-low". Because there is no mystery, and the "twist" is so obvious, you get fed up with the build-up. "Just get to it already!" you want to yell, waiting for the supposed big reveal.
Instead, I busied myself by looking at the most random cast since....ummm....well, ever. Though you may be mildly surprised at who's in it, you definitely won't be at their performances.
Roger Guenveur Smith: weird, creepy, and wild eyed as usual
Paula Jai Parker: ho'n it up and acting crazy, as usual
Patti LaBelle: sassy and for real gal not takin' any mess, as usual
Clifton Davis Junior: bland and boring, as usual
Leon: preening, arrogant, vain, and self-involved, as usual
Vivica Fox: plays the "mmm-hmmm, girlfriend!" role, lip twisted and with one eyebrow raised, as usual
Louis Gossett, Jr.: serious and no-nonsense, as usual
Mya: contributing as much to this movie as she does to the music industry.
Fun fact: the preacher's wife from the Richard Pryor classic "
Which Way Is Up?"
is in it, and she is still pretty funny. At least I think it was her.
Besides the tired theme of "forgiveness", the main problem is with one half of the leads.
Aunjanue Ellis
plays the wife, and she does the best she can with what she has. She is accused of murdering Leon, the husband's HIV positive lover, which is the other mystery in the plot. She is the only reason this film has any credibility at all, and I really wish she would get a lot more work...say substituting her for everything Gabrielle Union is in. She is also from San Francisco, a big plus in my eyes. It is
Razaaq Adoti
who plays the husband, Dutch Maas, that is the bad apple that spreads to the rest of the film. He is supposed to be the object of affection for at least four people in this film, yet he is not very good-looking, and is completely charm and charisma free. He didn't even seem that bright. I think he won this part on a bet, as even in the most dramatic scenes in the film--crying, fighting, scared, whatever--he is massively and totally unbelievable.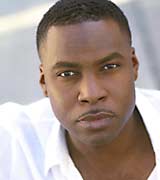 He was in another film that I saw on another mini movie marathon a while back, "Haven", with Anthony Mackie and Zoe Saldana. Even though that film wasn't that great, he did pretty well in that one, so I guess there's hope for him in the future. Ms. Invisible says rent this one when they are out of everything else at the video store. Here is the trailer--it takes a second to start:
And last (and least) is "Madea Goes To Jail". Ummm....yeeaaahhhh.....you're gonna have to read about that elsewhere, as I don't want to dedicate another drop of my precious posting space to that mess of a movie. Guess this picture's from the play:
So there you have it. Basically nothing to see here folks. Except "Dogtown and Z-Boys". I might have some movie news later, as I'm in a writin' mood today.
*i say semi-hot, cause i was never that attracted to these guys in the first place