Hi all. I guess it's safe to say I'm back for awhile for 3 good reasons:

1) I was moved by the concern of my safety in the quake via email (btw, it scared the sh*t out of me, and I was in the big one in San Francisco).

2) If I die in a quake, I don't want my last blog post legacy to be a week old "today in b'days post", haha.

3) Your girl is monetizing her blog a bit, which means I have to get my slacking self together and actually write on my own blog a bit regularly (the nerve). I even answered your recent comments (!).

So, there has been a lot of little, unimportant news...I'll get to some of it. Thanks for all who emailed me about the Black Cinema stamps. I actually wrote about them a while ago in February HERE. I usually write about things way ahead of time, so if it seems like I'm late or not aware of something current, use my searchbar to check the archives.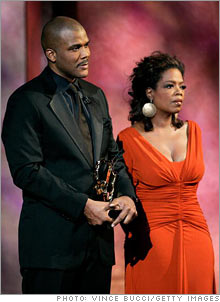 First up. a funny story Sergio emailed me about the Oprah/Tyler Perry "romance"
(lmao):
"He just kept complaining to Oprah that he's this successful film director and yet the paparazzi ignore him," said a source close to Perry's camp. "So [while on vacation in Italy] Oprah took him by the arm and said, 'come on, let's go take some pictures.'"

According to the source, Oprah made sure the paps got all the shots they needed of the pair while they vacationed with Oprah's BFF Gayle King in Portofino, Italy last week."Apparently, he complains a lot to Oprah because she did the same thing for him while they were in L.A. together last year," said the source.
From IW: Damn, just sad.
Did you know that Charles Dutton served some serious hard time? I didn't. My man has overcome some serious odds. From Variety:
Random House's Crown Books will publish multihyphenate Charles Dutton's memoirs in 2010. The book's working title is "From Jail to Yale.''

In 1968, at age 17, the Baltimore native was convicted of manslaughter, and he served 7½ years in prison.


Less than two years later, he went back to prison after being convicted of possession of a deadly weapon. During his second stint behind bars, he became involved with prison theater groups and after his release went on to college and the Yale School of Drama.




From IW: Interesting.




This is very random: Sanaa Lathan and Nia Long will be two of the voices on "The Cleveland Show" a spin-off of the cartoon "Family Guy". This should be interesting as I am usually not amused by the "satire" of Blacks on that show. At all.


What I am amused by, however, is a new blog I discovered called "

You Know You Dead Azz Wrong

". It is crazy, hilarious, and extremely mean and ignorant. Keep that last part in the forefront of your mind if you click on the link, and view sigh inducing pictures like this one (sorry folkses):